Perfect for a little girl baby shower, the pink Celebrity Baby Name Game playing cards are available for free download below. Recently updated with new celebrity couples and their baby names for 2015!
How to use
Login or Register. See sidebar or visit the 'My Account' page.
Download. Click on the download link below.
Print. The PDF file is optimised for home or office printing (inkjet or laser). If you don't have Adobe Acrobat Reader, you can download it here. There are two playing cards per A4 page. We recommend printing on thick paper (120-250gsm) for a lovely luxurious playing card. Select Actual size (not Fit) in the print dialog for even margins and easing cutting.
Trim. Using the marks on the print, cut the page down the middle to make two playing cards, and trim the excess from the bottom margin. A cutting mat, metal ruler and scalpel or stanley knife is best, but scissors will do too.
Save. Write down the answers so that you can determine a winner!
Have fun!
The answers
1:A; 2:N; 3:L; 4:K; 5:M; 6:B; 7:D; 8:J; 9:C; 10:H; 11:F; 12:E; 13:I; 14:G.
| | | | |
| --- | --- | --- | --- |
| 1 | Nicole Richie + Joel Madden | A | Sparrow James Midnight |
| 2 | Jennifer Garner + Ben Affleck | N | Violet Anne |
| 3 | Beyoncé Knowles + Jay-Z | L | Blue Ivy |
| 4 | Victoria Beckham + David Beckham | K | Harper Seven |
| 5 | Erykah Badu + Jay Electronica | M | Mars Merkaba |
| 6 | Juliette Norton + Jamie Oliver | B | Buddy Bear Maurice |
| 7 | Angelina Jolie + Brad Pitt | D | Vivienne Marcheline |
| 8 | Danielle Spencer + Russell Crowe | J | Tennyson |
| 9 | Christina Aguilera + Matthew Rutler | C | Summer Rain |
| 10 | Olivia Wilde + Jason Sudeikis | H | Otis Alexander |
| 11 | Fergie + Josh Duhamel | F | Axl Jack |
| 12 | Jessica Simpson + Eric Johnson | E | Ace Knute |
| 13 | Kim Kardashian + Kanye West | I | North "Nori" |
| 14 | Megan Fox + Brian Austin Green | G | Bodhi Ransom |
A cutting guide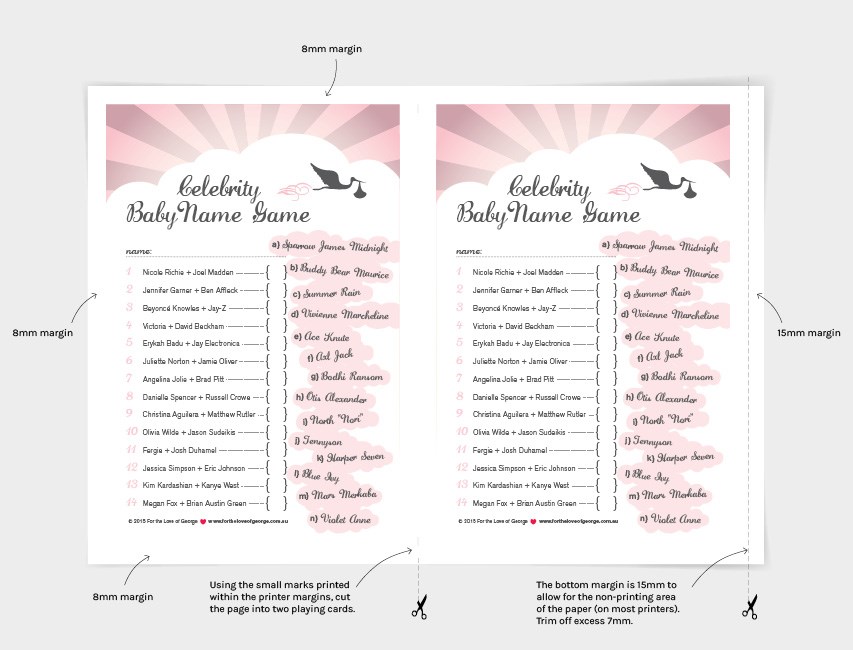 For info on how you may use this free download, visit our Terms and Conditions page. Feel free to contact me via email, the contact page, or the comments form below if you have any questions. I would love to see you and your baby shower guests in action — upload an Instagram shot of your game, ping me at @love_of_george and tag #madewithlove_of_george  :)
Title
Pink Celebrity Baby Name Game
Type
pdf
File Size
629.93 KB