These free printable seed packets are super cute to give as gifts, and perfect for a kids birthday party goodie bag. You may inspire some green thumbs!
What you'll need
Black and white printer
Paper – approximately 120gsm, in a colour of your choosing
Cutting mat
Metal ruler
Scalpel or stanley knife
Double-sided tape
Scissors
Seeds to fill packets
Black pen or fine marker
Tip:
Normal office paper is around 80gsm. Thicker paper — around 120gsm — will provide a more robust packet. However, thicker than 200gsm and you'll find it difficult to fold neatly.
How to make
Login or Register. See sidebar or visit the 'My Account' page.
Download. Click on the download link below. All 19 vegetables are included in the one PDF.
Print. The PDF file is optimised for home or office printing (inkjet or laser). If you don't have Adobe Acrobat Reader, you can download it here. There are two seed packets per A4 page. We recommend printing on thick paper (120gsm) for a more durable packet. Select Actual size (not Fit) in the print dialog for a full-size packet.
Score and trim. Optionally score each tab from corner to corner (see cutting guide below) for easing folding. Using the solid lines on the print, cut around each seed packet. A cutting mat, metal ruler and scalpel or stanley knife is best, but scissors will do too.
Stick. Fold your tabs and adhere with double-sided tape.
Fill. Fill packets (you don't need to fill to the brim, 20-50 seeds should be plenty!) and adhere top flap into place with double-sided tape.
Mark. Check planting guides for your area and climate and mark appropriate planting months by filling circles with a black marker pen.
Tip:
ABC's Gardening Australia has a good planting guide. You can also try Gardenate.com for Australia, Canada, New Zealand, South Africa, UK and USA.
A cutting guide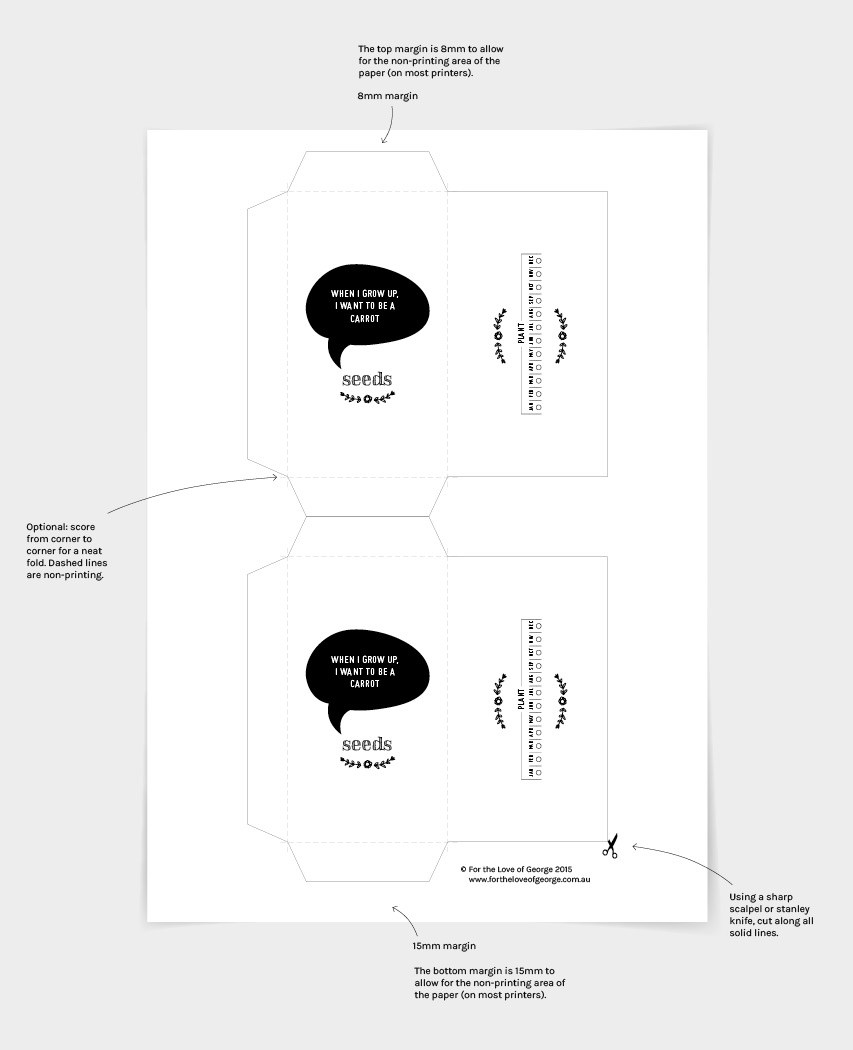 For info on how you may use this free download, visit our Terms and Conditions page. Feel free to contact me via email, the contact page, or the comments form below if you have any questions. I would love to see your little seed packets in action — upload a pic to Instagram, ping me at @love_of_george and tag #madewithlove_of_george :)
Title
Seed packets - 19 vegetables
Type
pdf
File Size
1.73 MB

PDF contains 19 pages with seed packet designs for the following vegetables: Beetroot, Broccoli, Cabbage, Capsicum, Carrot, Cauliflower, Green Bean, Lettuce, Parsnip, Peas, Pepper, Pumpkin, Radicchio, Radish, Rocket, Spring Onion, Tomato, Turnip and Zucchini.